BetSafe Review
One of the biggest issues we have in the world of online betting sites is the fact that BetSafe is not very well-known. We decided to put together this review to try and rectify that somewhat. After all, when a site is good, as many people deserve to know about it as possible. Let's look at what BetSafe offers, shall we?
Welcome Bonus & Sports Promotions
I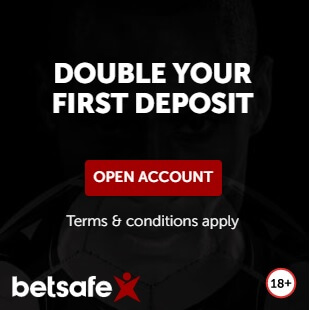 f you love your betting bonuses, you will be pleased to know that BetSafe offers some of the best in the industry.
The betsafe betting bonus is simple to claim. All you need to do is deposit £10 into your account and you will get £30 to tinker about with. This means that you are going to get a good head start on your betting.
It is worth noting that there is also an online casino attached to BetSafe. We are not going to talk about that too much on this page. All you really need to know is that there are also a few bonuses available there too. They switch out from time to time.
Games Available at Betsafe Sportsbook
There are over 30 different sports and events that you can bet on at any one time. Over those events, there are thousands upon thousands of different bets available. If you can imagine it, it is likely that there is going to be a bet there that you can sink your teeth into which is, of course, rather brilliant. ¨
One of the things that we really love about BetSafe is the fact that they are not afraid to tap into the events that nobody else has. This means some of the weirder leagues in football. Sure, it is all well and good betting on the Premier League, but how about betting on sports in the lower Norwegian leagues? The fact that there is so much available here ensures that you are never going to get bored.
Betting Odds
It is all well and good having plenty of sports available, but what is the point if the odds are terrible? Well, you will be pleased to know that the odds at BetSafe are among the best in the industry. Yes, it is going to be impossible to have the 'top odds' available at all times, but even when BetSafe is not the best on an odds level, it does come very close. We can't really fault them there!
Live Betting
In this day and age, if you are a betting site which does not allow live betting, then you are a betting site which really is not worth paying attention to. Thankfully, BetSafe offers live betting and it is some of the most awesome that we have seen. Sure, you will be able to do it through their website, although you may also want to crack open the app that they have developed.
You will be surprised at just how smooth the app is. Honestly, it is one of the best betting apps that we have seen in years. This is really saying something considering there are so many companies out there that have more resources available to them. Therefore, there is much praise to heap on BetSafe here.
Deposit and Withdrawal Methods
There are plenty of options available here. No fault to be found. If you have a bank account in the United Kingdom, you will be able to deposit cash into BetSafe. In addition to this, you will be able to withdraw to most bank accounts and payment methods within a matter of days.
Other Betting Options
While it is likely that you are going to be spending most of your time on BetSafe engaging in sport betting, you will also be pleased to know that there is a whole live casino attached. We know that eventually you are going to get a hankering to try out something a little bit different, so it is lovely to know that BetSafe goes to great lengths to keep everything under 'one roof'.
Conclusion
The only fault that we can find in BetSafe is the fact that they are not well-known enough. We hope that our review goes some way towards rectifying this (seriously, check out the website).
It has everything that a gambler could possibly want. Multiple betting options, fantastic odds, and easy withdrawal from your account. Couple this with fantastic mobile betting options and you have what is regarded as one of the best betting sites around. Now that you know what BetSafe brings to the table, why not check it out? There is a reason we have heaped so much praise on this!